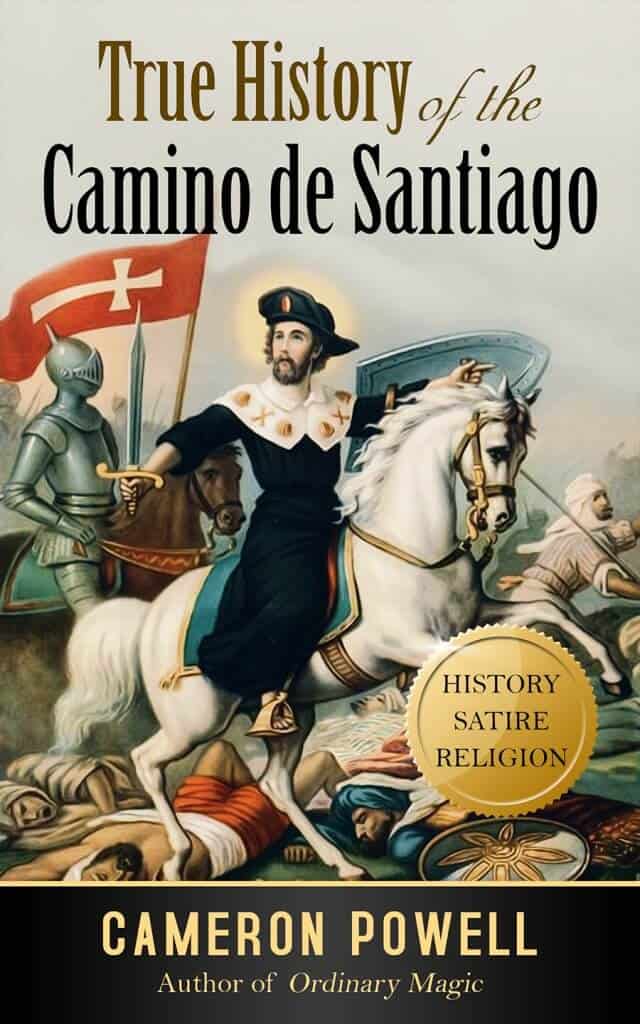 The Stranger-than-Fiction Tale of the Biblical Loser Who Became a Legend
There are good reasons you might want to walk the Way of St. James -- but St. James himself is surely not one of them.
As this satirical alternative history novella gets underway, a nameless narrator is walking the Camino de Santiago with his mother. He's divorcing from his wife, his mom's cancer is back, and he's hungry for meaning. But he knows "next to nothing" about his mother's plan to make him walk 500 miles.
He knows the Camino began around the reign of King Alfonso II - "whom responsible historians surely call The Fonz" - in the 9th century, and that, in the New Testament, Jesus referred to James and his brother John as "Sons of Thunder".  
Whoa. Jesus gave out nicknames? But why 'Sons of Thunder'? Were they like Riverdancers? Expert drummers? No, the "most probable" reason, per a Bible commentary well-known among people who know their Bible commentaries, was that there was "something fervid, and glowing, and powerful in their genius and eloquence."
But then, late one night on the trail, Cameron and a mad Spaniard named Julio discover an ancient codex inscribed: "The Codex of Alfonso II, King of Asturias".
Julio looked at me, eyes wide. "Will the world finally learn what happened?"

"We are going to win a Nobel Prize," I breathed.
As they stay up all night to read the 9th-century Codex, it spills answers to all the burning questions of the thinking Camino pilgrim, including:
Is there any chance at all that a Middle Eastern Jew's bones are in a crypt in Santiago de Compostela, Spain?
Why, in the cathedrals along the Camino, are there so many portraits of St. James riding his horse over people?

Did the legend of James in Spain -- and the nation of Spain, sort of -- really begin with a scribal error in an old manuscript -- the modern equivalent of a

typo

?
We're spirited to early 800s northwestern Spain, where King Alfonso II is in a pickle. Muslim armies have taken over most of Iberia, and now the Moors are lapping at his southern borders.
The King is in dire need of revenue, and soldiers. A new priest offers a solution: pilgrims. All they need is a relic. Like splinters from the One True Cross, or, believe it or not, some Holy Foreskin. A body part from a saint. The King is all ears. There's just one problem…
"All the good saints are taken."

"What do you mean, 'taken'?"

"Well, there is this James fellow."

"What's wrong with him?" the King asks, and so, of course, should you.
The Bible tells us little about James. But it's enough.
In a brilliant, laugh-out-loud critique, the King's canny court rabbi transports the reader to James' curious appearances in the Gospels, where it becomes clear that James' "genius and eloquence" were not at all what Jesus had in mind, and that even for the desperate king, James was probably, er, not among the top choices.
From the author of the acclaimed memoir and Camino travelogue Ordinary Magic comes this irreverent, witty, but ultimately serious-minded fictionalization of the Camino's true history. With crackling dialogue, historically accurate (and footnoted!) renderings of an alternative universe, and color illustrations such as Michelangelo's Bartholomew in The Last Judgment, it's that rare history of the Camino that's funny, thought-provoking, and unforgettable.
Cameron Powell tells you the history of the Camino de Santiago that has never, till now, been told. You'll never think of James, the Camino, or the making of the stories you believe in the same way.
Q: Who is this is juicy, erudite entertainment meant for?
A:  History nerds, religious seekers, rational skeptics, thinking people, and anyone who likes Monty Python or thinks they might want to take a long walk on the Camino de Santiago.
Q: Can we learn from any other historical source why Jesus really called James a "Son of Thunder"?
A: No, you cannot.
Q: You ransack historical sources ranging from the Gospels to the movie "The Graduate".
A: That's so true.